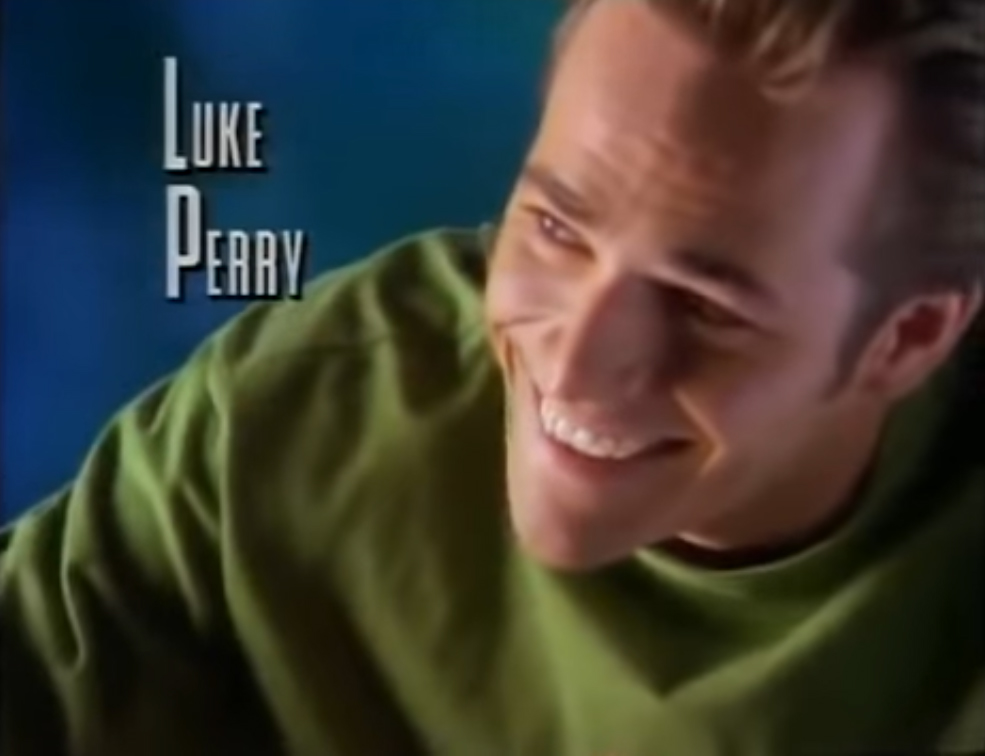 E' morto ieri a Los Angeles l'attore Luke Perry, diventato celebre in tutto il mondo per la teenagers series degli anni '90, del XX Secolo, Beverly Hills 90210.
Luke Perry aveva 52 anni ed è stato colto da un ictus celebrale che non ha lasciato scampo a nella sua casa di Sherman Oaks.
Trasportato d'urgenza all'Ospedale di Burbank (contea di Los Angeles) è ivi deceduto
Biografia
Figlio di Coy Luther Perry Jr. e Ann Bennett, rimase orfano di padre quando aveva 14 anni. Iniziò a recitare in alcune soap opera come Destini e Quando si ama. Nei primi anni novanta entrò nel cast della serie tv Beverly Hills 90210: girò quasi tutte le stagioni di Beverly Hills 90210 (dal 1990 al 1995 ininterrottamente, poi dal 1998 al 2000)
Sigla di Beverly Hill 90210
Perry apparve in varie pellicole di successo, come Buffy - L'Ammazza Vampiri, Il quinto elemento, diretto da Luc Besson, ed anche nel film italiano Vacanze di Natale '95, con Massimo Boldi e Christian De Sica. Recitò anche nelle serie tv Oz, Le cose che amo di te, Will & Grace e Jeremiah, della quale fu protagonista.
Sotto forma di disegno animato apparve più volte nel cartone I Simpson come telespalla di Krusty il clown, del quale era il fratello. Un'altra apparizione nel mondo dei cartoni animati risale al 2002, quando ha dato la voce a se stesso nella serie "I Griffin" nell'episodio 19 della seconda stagione, dal titolo "Prima pagina". Era presente anche nel cartone della Hanna-Barbera "Johnny Bravo".
Nel 2009 partecipò al video del singolo natalizio dei The Killers, Happy Birthday Guadalupe. Nel 2011 tornò a collaborare con un altro protagonista di "Beverly Hills 90210", Jason Priestley, che lo diresse nel film tv western Good night for justice, dove Perry interpretava un giudice.
Nel 2014 fu protagonista con Nicholas Galitzine del film inglese The Beat Beneath My Feet nel quale interpretava Steve, un chitarrista rock in crisi. Il film, diretto da John Williams, venne presentato in concorso in Italia alla 45ª edizione del Giffoni Film Festival. Da settembre 2016 era impegnato nella serie Riverdale, di cui l'episodio pilota è andato in onda a gennaio 2017.
Filmografia
Cinema
L'ultimo viaggio (Terminal Bliss), regia di Jordan Alan (1990)
A letto in tre, regia di David Beaird (1991)
Buffy - L'Ammazza Vampiri (Buffy the Vampire Slayer), regia di Fran Rubel Kuzui (1992)
8 secondi di gloria (8 Seconds), regia di John G. Avildsen (1994)
Vacanze di Natale '95, regia di Neri Parenti (1995)
Crocevia per l'inferno (Normal Life), regia di John McNaughton (1996)
Il quinto elemento (Le cinquième élément), regia di Luc Besson (1997)
Randagi (American Strays), regia di Michael Covert (1997)
Lifebreath, regia di P.J. Posner (1997)
Partita col destino (The Florentine), regia di Nick Stagliano (1998)
Uragano (Storm), regia di Harris Done (1999)
Impatto letale (The Heist), regia di Kurt Voß (1999)
Attention Shoppers, regia di Philip Charles MacKenzie (2000)
The Enemy, regia di Tom Kinninmont (2001)
Dirt, regia di Michael Covert, Tracy Fraim (2001)
Fogbound, regia di Ate de Jong (2002)
Down the Barrel (Luxury of Love), regia di Diana Valentine (2003)
Dishdogz, regia di Mikey Hilb (2006)
Le avventure dei ragazzi vincenti (The Sandlot 3), regia di William Dear (2007)
Alice una vita sottosopra (Alice Upside Down), regia di Sandy Tung (2007)
Äntligen midsommar!, regia di Ian McCrudden (2009)
Upstairs, regia di Robert-Adrian Pejo (2009)
Silent Venom, regia di Fred Olen Ray (2009)
Sam Steele and the Junior Detective Agency, regia di Tom Whitus (2009)
Good Intentions, regia di Jim Issa (2010)
The Final Storm, regia di Uwe Boll (2010)
Redemption Road, regia di Mario Van Peebles (2010)
Un'estate al ranch (Hanna's Gold), regia di Joel Souza (2010)
Flat Chested, regia di Kristyn Benedyk (2013) - cortometraggio
Red Wing, regia di Will Wallace (2013)
Scoot poliziotto a 4 zampe (K-9 Adventures: A Christmas Tale), regia di Benjamin Gourley (2013)
A Fine Step, regia di Jonathan Meyers (2014)
The Beat Beneath My Feet, regia di John Williams (2014)
Scoot poliziotto a 4 zampe 2 (K-9 Adventures: Legend of the Lost Gold), regia di Stephen Shimek (2014)
Black Beauty, regia di Daniel Zirilli (2015)
Dragon Warriors (Dudes and Dragons), regia di Maclain Nelson, Stephen Shimek (2015)
Race to Redemption, regia di Teddy Smith (2016)
It's a Gawd!, regia di Gerald Brunskill (2017)
Televisione
Voyagers! - serie TV, episodio 1x07 (1982) - non accreditato
Quando si ama - soap opera, 1 episodio (1988)
Destini - soap opera, 10 episodi (1988-1989)
Beverly Hills 90210 - serie TV, 199 episodi (1990-2000)
Parker Lewis - serie TV, episodio 2x22 (1992)
A casa con i Webber - film TV, regia di Brad Marlowe (1993)
Spin City - serie TV, episodio 1x16 (1997)
Riot - film TV, regia di Richard Di Lello, David C. Johnson, Alex Munoz, Galen Yuen (1997)
Invasione letale (Invasion) - film TV, regia di Armand Mastroianni (1997)
Occhi indiscreti - film TV, regia di Marc Bienstock (1998)
Night Visions - serie TV, episodio 1x04 (2001)
Mistero alle Bermuda (Triangle) - film TV, regia di Lewis Teague (2001)
Oz - serie TV, 10 episodi (2001-2002)
La guerra di Johnson County - film TV, regia di David S. Cass Sr. (2002)
Jeremiah - serie TV, 35 episodi (2002-2004)
Will & Grace - serie TV, episodio 7x17 (2005)
Le cose che amo di te - serie TV, episodi 3x17-3x23-3x24 (2005)
The Descent - Al centro della terra - film TV, regia di Terry Cunningham (2005)
Supernova - film TV, regia di John Harrison (2005)
Windfall - serie TV, 13 episodi (2006)
John from Cincinnati - serie TV, 10 episodi (2007)
La promessa di un pistolero - film TV, regia di Armand Mastroianni (2008)
Law & Order: Special Victims Unit - serie TV, episodio 10x01 (2008)
Criminal Minds - serie TV, episodio 4x03 (2008)
La figlia della sposa - film TV, regia di Leslie Hope (2008)
L'ultima conquista - film TV, regia di Terry Ingram (2009)
The Storm - Catastrofe annunciata - miniserie TV, parti 1-2 (2009)
Leverage - Consulenze illegali - serie TV, episodio 2x13 (2010)
FCU: Fact Checkers Unit - serie TV, 8 episodi (2010)
Goodnight for Justice - film TV, regia di Jason Priestley (2011)
Battle Scars: The Bud Moore Story - film TV, regia di Kenan Harris-Holley, Rory Karpf (2011)
Goodnight for Justice: Il valore di un uomo - film TV, regia di Kristoffer Tabori (2012)
Body of Proof - serie TV, 5 episodi (2012-2013)
Goodnight for Justice: Regina di cuori - film TV, regia di Martin Wood (2013)
Aiutami Hope - serie TV, episodio 3x18 (2013)
Community - serie TV, episodio 4x03 (2013) - non accreditato
Major Crimes - serie TV, episodio 3x08 (2014)
Hot in Cleveland - serie TV, episodio 5x24 (2014)
Welcome Home, regia di James Head (2015) - film TV
Detective McLean - serie TV, 5 episodi (2015)
Jesse Stone - Delitti irrisolti (Jesse Stone: Lost in Paradise), regia di Robert Harmon (2015) - film TV
Love in Paradise, regia di Sean McNamara (2016) - film TV
Riverdale - serie TV (2017-2019)
Doppiatore
I Simpson - serie TV, episodio 4x22 (1993)

Biker Mice da Marte - serie TV, 6 episodi (1994-1995)

Mortal Kombat: Defenders of the Realm - serie TV, 13 episodi (1996)

L'incredibile Hulk - serie TV, 10 episodi (1996-1997)

The Night of the Headless Horseman - film TV, regia di Shane Williams (1999)

Pepper Ann - serie TV, episodi 3x03-5x11-5x13 (1999-2000)

I Griffin - serie TV, episodio 2x19 (2001)

Clone High - serie TV, episodio 1x10 (2003)

Biker Mice from Mars - serie TV, episodio 1x26 (2007)

Generator Rex - serie TV, episodio 1x05 (2010)

Pound Puppies - serie TV, episodio 1x12 (2011)